Designers often build prototypes to test concepts, but it's also important for them to understand how their work translates into a tangible product. Follow these steps and you'll be on your way!
Designers who work in Adobe Figma and want to convert their prototype to WordPress, should know that it is not as easy as it sounds. There are many steps involved with the process. This article will outline some of the reasons why designers choose to convert their design prototype to WordPress and how they can do so.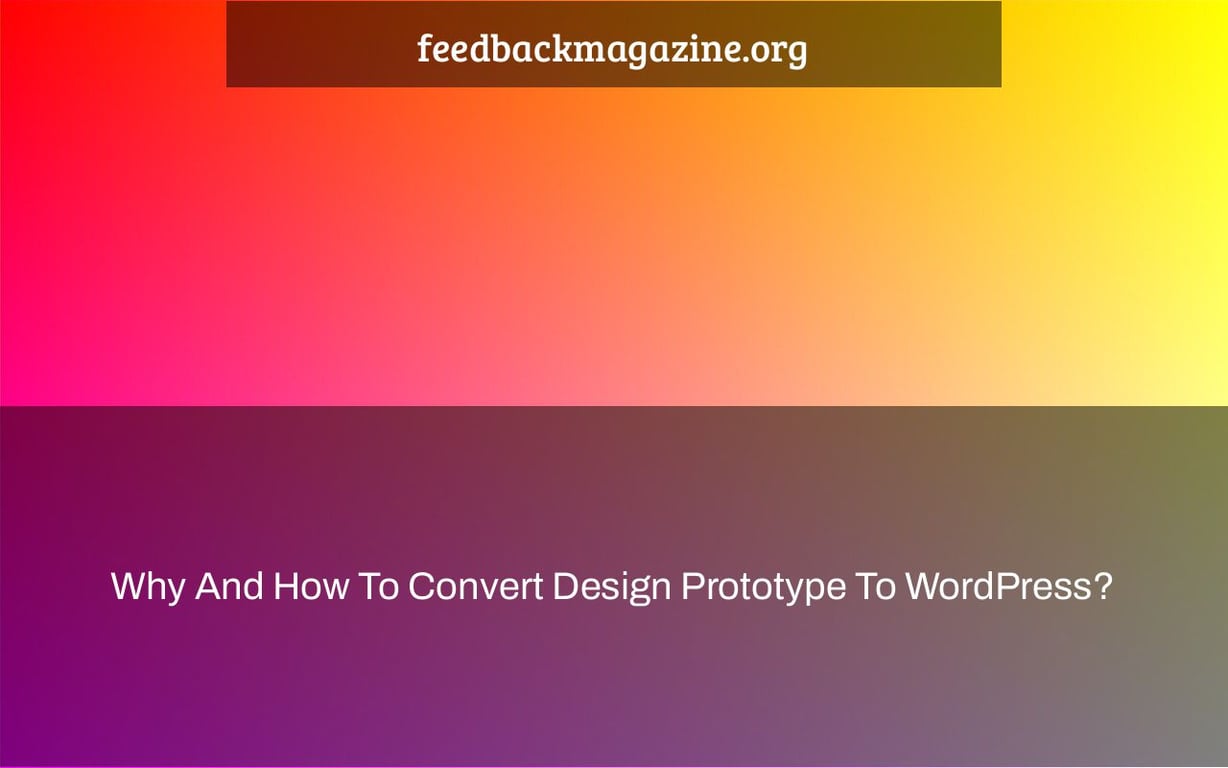 Have you or a customer built a website design prototype on another platform that you'd want to convert to WordPress? If that's the case, you won't have to worry about it, and it'll be a simple procedure. This tutorial will show you how to convert a website design prototype to WordPress in a step-by-step manner.
Website prototypes have a lot of advantages, and designers love them since they save time. To make your prototype usable, you must convert it to WordPress, regardless of the prototyping platform you used. After you've finished the procedure, you'll be able to go live with your website.
Although there are a variety of methods and tools for creating quick prototype sites, we'll concentrate on the conversion from these formats. All you need is a basic understanding of WordPress, such as how to update themes and use the page builder. So, without further ado, let's get started with the overview.
Overview of a Website Design Prototype
A website design prototype is a working model of a future website. It has less functionality than the real website, but it provides you a sense of how it looks and works. Users or your customer may still navigate the website and utilize some of its features.
This is an important technique, and designers may exhibit their ideas before launching a website. When you've completed the final design or prototype, you'll need to convert it to WordPress. Now is the time to talk about the techniques and then move on.
Using WordPress to Convert Website Design Prototypes
Converting interactive design prototypes to WordPress may be done in one of two ways. As previously noted, you'll need a basic understanding of WordPress for this. Let's have a look at these options:
Making Your Own WordPress Theme is a great way to get started.
It's easier to make a custom WordPress theme than it is to make a prototype. You'll have to start from scratch if you want to convert the design and look. To make your own WordPress theme, use Saga, Underscores, HTML5 Blank, and JointsWP.
Convert the prototype to HTML code first. We don't believe we need to go through how to convert to HTML since you're already familiar with it. After that, create a new WordPress theme using the HTML theme. The builder is the second choice if you have little or no understanding of HTML.
Using the Page Builder and Theme
Now for the second technique, which necessitates the use of a page builder and a ready-made, changeable theme. This approach does not need you to code and allows you to create your own designs. However, if you choose feature-rich themes and builders, you will be pleased with the end product.
Furthermore, you are free to use any theme and builder that you are familiar with. However, we propose Astra, Neve, or Divi as themes. Beaver, SeedProd, and Divi are among the builders available. You may quickly convert your website prototype to WordPress with this combo.
Converting Website Design Prototypes to WordPress: A Step-by-Step Guide
It's now time to get down to business, switching the prototype to WordPress. However, it is important to note that there is no instrument that can be used in this procedure. It's just a matter of replicating the prototypes as blueprints to create the website.
Because creating a custom theme to convert our prototype takes time, we'll choose for the second option, using a page builder. Let's get started by going through the following stages one by one:
1. Choose the most appropriate WordPress theme
The initial step is to choose a theme, and we recommend one that complements your website design prototype. This is a vital step because if you choose a theme that lacks features, you will be disappointed. The most crucial thing is to choose a theme that works with the page builder.
By best theme, we mean any theme that is extremely flexible, changeable, and full of features. Astra, Avada, and Elementor are all compatible with the majority of page builders on the market. You may conduct your research if you want to attempt another one based on your design.
2. Select the Most Effective Page Builder
You don't have to be concerned about this, as the page builder you use is determined by the theme you choose. Only when a high-quality, practical, and suitable page builder is compatible with your theme will it operate. You may begin designing after you've chosen your theme and builder.
The Astra theme, for example, is best used with Beaver Builder, and most designers utilize it for the majority of their projects. If you haven't already done so, we recommend focusing your design assignment on them. You'll be able to convert any design prototype to WordPress after a few tries.
3. Customize Your Theme's Global Settings
Here's where the technical stuff begins; you'll need to make some adjustments dependent on the style of your prototype. These global theme options enable you to customize the page layout, font size, style, and colors. You may also change the layouts of the header and footer, among other things.
Every theme has its own set of global options that may be customized. As a result, you must choose a theme that you can adjust to meet your needs. This and the next steps are lifesavers if you want things to return to normal. The design of your website is mostly determined by these two processes.
4. In your page builder, configure global settings.
Every page builder includes a Global Setting that has to be tweaked to match your website design concept. Padding, margins, and width setup, as well as other layout variables, are more important to a builder. As a result, learning and achieving the optimum page size requires practice.
Because each provide distinct functionality, you must use a page builder and a theme. Only the theme allows you to change the page size to match the prototype design. One benefit is that this procedure takes less time and is simple to carry out.
5. Make the header and footer for your website.
Go to the Customize option in your theme's settings to construct and design your website's header and footer. This stage determines how responsive your theme will be on desktop and mobile devices. As a result, you should give it time and be cautious about what you add or change.
A good theme will let you develop a header and footer based on your prototype design. Most themes, on the other hand, only allow you to change the logo, menu bars, and dropdowns in the header by default. The same is true for footers; you may only change the author bio, pages list, and other elements using the default CSS.
As a result, you'll need to be familiar with HTML and CSS. It will assist you in creating a beautiful header and footer, regardless of how complicated the design is. As a consequence, you'll have a website that closely resembles your design sample.
Create a homepage as well as other pages.
The last stage is to create the full homepage as well as additional website pages. You must design the homepage depending on the purpose of your website, such as an instructive blog or an online shop. It works with your page builder once again, and you'll need to conduct the necessary updating, row creation, and so on.
Theme and Page Builder Global Settings are critical phases in our approach. It would be simple to create the webpage if you have followed those instructions precisely. This procedure will take some time, however it will not take long to create additional pages.
Why Should You Use WordPress Website Design Prototypes?
Website prototypes are a great approach to show off your design abilities to customers or construct a website demo. They assist you and your clients save time and money by providing the primary website's concept. Here are some of the reasons why you should employ prototypes in your projects.
You'll save time and effort.
Building castles in the air, on the other hand, has no effect on anybody. Nobody believes you until they see your work and goals, no matter how much you discuss them. As a result, website prototypes are used to finalize your design or to demonstrate your client their website design before it goes live.
This helps you save time by preventing you from working hard on something you don't need to. For example, we all know how time-consuming it is to establish an eCommerce website. So, if you create a prototype first, understand all of the functionality, and then convert it to WordPress, you'll be OK.
You Bring Demonstration of Your Skills
Another advantage of website design prototypes is that they allow you to demonstrate your abilities before you begin the real job. If you provide web and app development services and your customer need an eCommerce website or app, prototypes can be a good option.
As a result, you and your customer will have a wonderful connection. Always strive to improve your prototyping abilities before learning how to convert your prototypes to WordPress. There will always be a win-win scenario for you if you have both of their skill sets.
Trial and Error Is Effective The Very Best
All designs or projects, no matter how basic or sophisticated, must go through a trial and error process. It's not about failure; it's about your client's project's ideals. So, rather than regretting it later, it's a good idea to make a prototype and see how it works.
Clients who don't comprehend technical language may need us to display our prototype, which is exactly what they desire. They are mostly concerned with the looks and functional elements, therefore be truthful in your work.
Makes it simple for you to do tasks
This advantage, on the other hand, is only for you. Design prototypes make converting your design concepts to WordPress a breeze. You can become trapped in the middle of your website design process if you don't have an interactive prototype. As a result, it serves as a guide for you to copy and follow.
A prototype is a live version of your or your client's website that may be changed. As a result, you may make adjustments anytime an idea strikes you or your customer requests them. This prevents you from having to recreate the prototype from start only to make a few minor changes.
Most Commonly Asked Questions (FAQs)
What is the significance of prototyping in design?
A prototype is a fast and efficient technique to create a future design for your website in web design. You may convey your concept to someone and address difficulties that may arise in the future. It tells you which components to utilize and which to avoid during the process.
What is the best way to convert HTML to WordPress?
If you wish to convert your HTML or CSS to WordPress by hand, follow these steps:
Create and rename a folder for your theme and needed files.
In a Stylesheet, copy and paste your current CSS.
Go ahead and split apart your present HTML.
Complete your index.php file and save it.
Finally, save your freshly made theme.
What's the best way to convert XD to WordPress?
It's simple to convert an Adobe XD file to WordPress. To do so, follow the instructions below:
To begin, prepare your Adobe XD file or design.
Create all graphics, including icons and pictures, with Elementor.
By adding sections, you may convert your format to Elementor.
To make your theme more responsive, play around with padding and margins.
Make a template of your page and use it on your website.
What's the best way to export from Figma to WordPress?
You must first convert Figma to HTML before exporting your design to WordPress. Following that, you may convert your HTML theme into a WordPress website using the same processes as before. This is for creating custom themes; you may alternatively use the basic theme and the builder.
Are you prepared to take these steps? Conclusion
Well! So far, that's all there is to converting a website design prototype to WordPress. Custom theme creation and utilizing a base theme and page builder are the two greatest options, depending on your talents. These methods are simple to use and will assist you in customizing your website to meet your requirements.
If you know basic CSS or HTML, we strongly advise you to choose the first technique. Otherwise, just follow the methods outlined above, and you will be pleased with the end result. So, what do you have to lose? Now is the time to open your computer or laptop and get started.
Watch This Video-
Design prototype is a process that involves the creation of a design by using various software tools. It is also used to create wireframes, mock-ups and prototypes. The "figma to wordpress plugin" allows designers to convert their design prototype into WordPress without any hassle.
Frequently Asked Questions
How do I create a prototype in WordPress?
A: If you plan on creating a prototype, make sure your theme is responsive. Youll want to create a page and then publish it so that the public can see it. Then, go into editor mode by clicking on edit in the top right corner of the screen next to publishing options and then select save draft.
How do I transfer a figma design to WordPress?
A: You can transfer a figma design from the Figma website by downloading it as an .FBX file, and then importing that into Blender. There are some specific instructions on how to do this here.
Can you transfer Adobe XD to WordPress?
A: Unfortunately, Adobe XD is a download software that cannot be transferred to another platform.
Related Tags
figma to elementor plugin
adobe xd prototype to wordpress
figma to elementor conversion
psd to wordpress converter online free
adobe xd to wordpress plugin